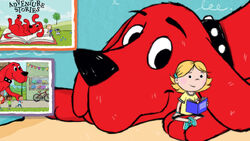 The Clifford the Big Red Dog Wiki (currently of Fandom, formerly Wikia) is a collection of information and pages about the well loved PBS Kids/CBeebies series Clifford the Big Red Dog which was adapted from the book series by the same title. The series ran from September 4, 2000 – February 25, 2003 for a total of 65 episodes. As for Nelvana's 1988 series, we include those. We also include Books! Plus the 2019 relaunch called season 3!
Plot
Clifford was the runt of the litter, and was chosen by a city child named Emily Elizabeth Howard as her birthday present. No one expected Clifford to grow, but Emily Elizabeth's love for her tiny red puppy changed Clifford dramatically. Before long, he was over 25 feet (7.6 m) tall, forcing the Howard family to leave the city and move to the open spaces of Birdwell Island.
Clifford The Big Red Dog was one of many PBS Kids shows designed to teach children a number of life lessons. Two 15-minute stories made up each 1/2-hour cartoon. Usually one story featured Clifford and his canine friends, T-Bone and Cleo among them; the other story would focus on Emily Elizabeth and friends her age. One principle was kept religiously: the dogs talked only when humans were not present; otherwise, they only barked.
Quick Links
For more general information about the show see: Clifford (Main Page)
Not sure where to start?
Adding content