Jurassic World: Dominion Dominates Fandom Wikis - The Loop
Play Sound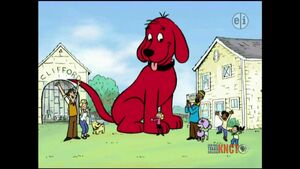 The theme song for the PBS animated television series serves as the opening theme song. An instrumental version of the song plays over the end credits. The theme song was performed by the uncredited male singer. In the revival, has a new theme.
Intro
The intro begins with the show's logo. A young pup walks the apartment and Emily Elizabeth pets. A young pup became larger. Emily Elizabeth's parents see the dog at the apartment. Emily Elizabeth is riding with the dog. Emily Elizabeth gives hunger to the dog. Emily Elizabeth is yelling at the window and the dog licks her. The parents are driving a car with the dog. The dog travels the sea. The dog's friends are greeting Emily Elizabeth at the dock. Emily Elizabeth's friends are playing basketball with the dog. Her friends' parents are clapping to the dog. Emily Elizabeth hugs the dog. The dog barks.
Lyrics
Emily Elizabeth: Hi, my name is Emily Elizabeth, and this is Clifford, my big red dog.
Man: Clifford needed Emily, so she chose him for her own.
And her love made Clifford grow so big
That the Howards had to leave their home
Clifford's the best friend anyone could know
He's the greatest dog ever, I really think so.
Clifford's so loyal,
Emily Elizabeth: Clifford!
He's there when you call,
I love Clifford the Big Red Dog!
So they packed up the family car and the Howards left the city
They moved to Birdwell Island and found many new friends
There to greet Clifford and Emily
Clifford's so much fun
He's a friend to us all
(Man, Cleo, T-Bone and Mac): I love Clifford the Big Red Dog!
(Kids Laughing)
(Clifford Barks)
Watch The Theme Song
The theme song can be found here.