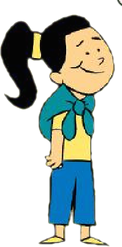 Jetta Handover is one of Emily Elizabeth's friends and a character from Clifford the Big Red Dog. Her voice actor is Kath Soucie.
Personality
Jetta is Mac's owner and also a friend of Emily Elizabeth who is often oblivious to others' feelings, including those of her boyfriend. She is often shown leading parades and competing in talent shows as a majorette. Jetta often claims her accomplishments are bigger or better than others' and finds herself humbled when she aims too high to the point where she needs help. Her mother owns one of the island stores and seems somewhat oblivious to Jetta's behavior. She often appears to dislike Clifford, criticizing him for minor accidents caused by his size, but occasionally she will show that she really does like him.
Appearance
Jetta wears a yellow shirt with a turquoise hoodie tied around her neck, blue pants, and pointed yellow shoes. She has long black hair in a ponytail. Once, she wore a yellow swimsuit.
Gallery