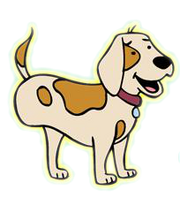 KC is a minor character from Clifford the Big Red Dog. He has only 3 legs. It is unknown whether he was born with a missing leg or if he lost it in an accident. He appears several times in the series.
In his first appearance in the episode "A New Friend", he was just visiting Birdwell Island. He has a positive outlook on life and is usually very optimistic despite his disability He is voiced by Cam Clarke.
KC's job
In the episode "Beachball Star", KC says that he is going to live there. KC is a helping dog. He helps his owner's mother by getting water for her, and many other stuff too.